Ikebukuro Life Safety Learning Center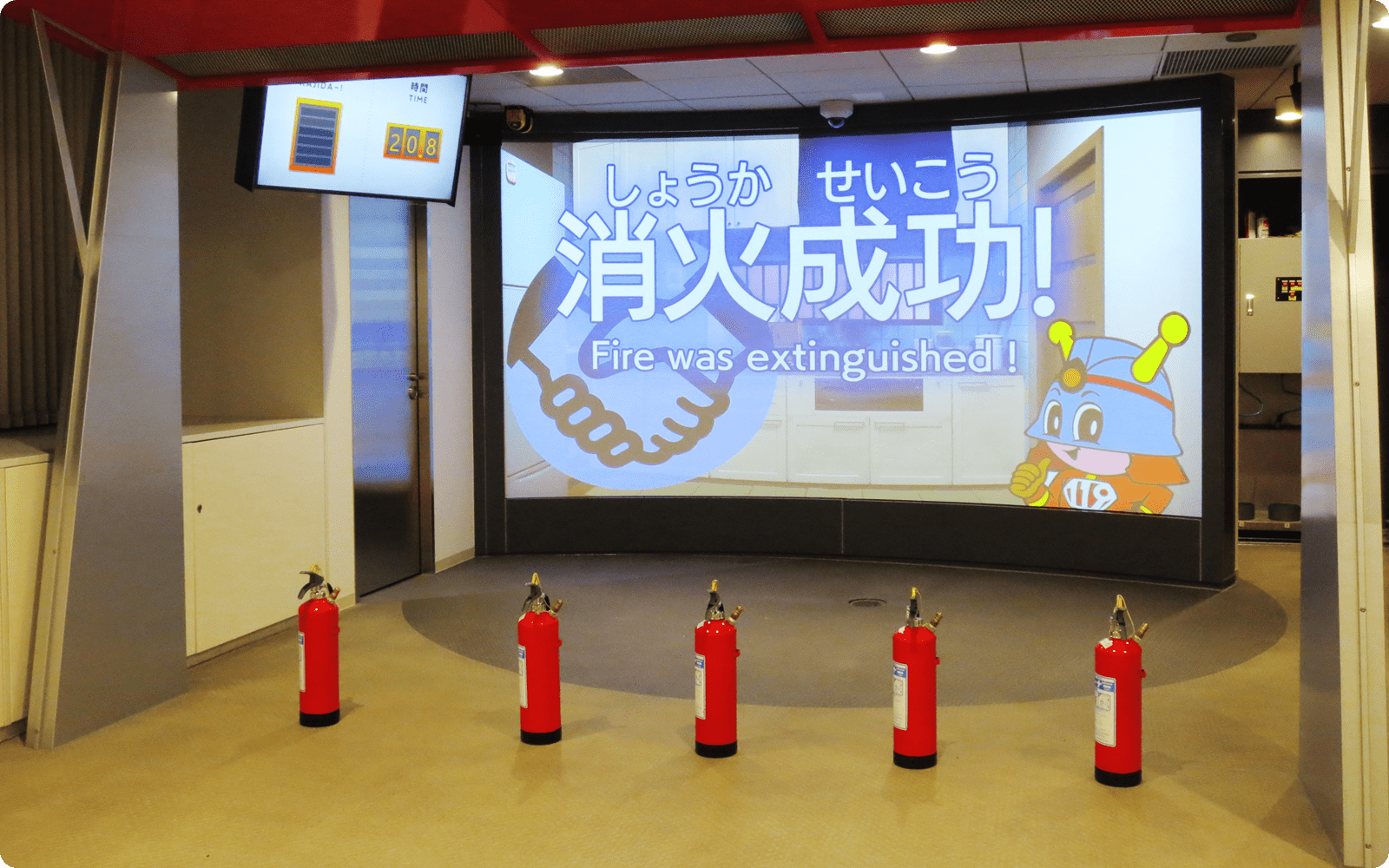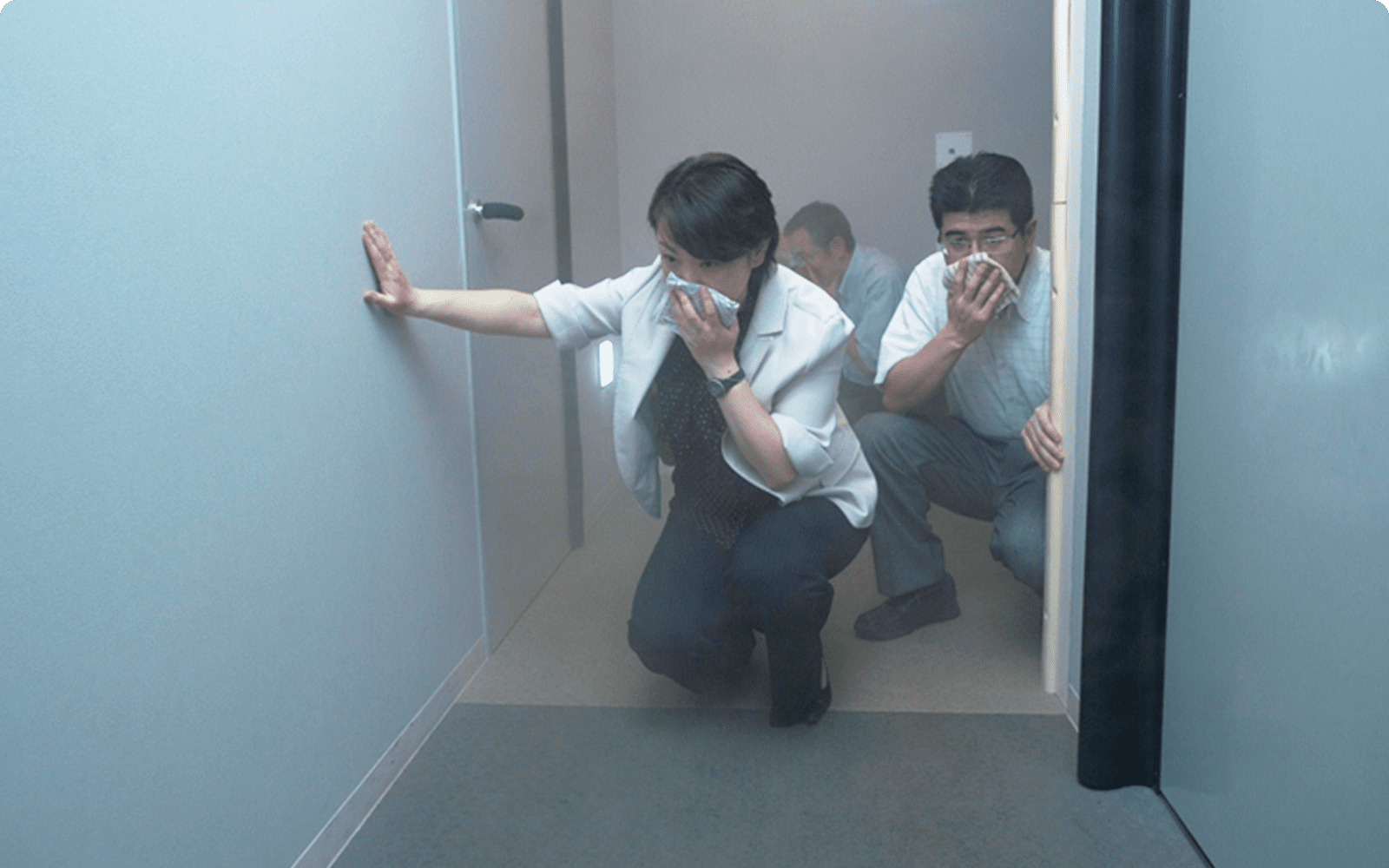 Experience disaster prevention in an enjoyable way at Life Safety Learning Center just a five-minute walk from Ikebukuro Station!
As training for employees! Disaster prevention education for students! Emergency training for neighborhood associations and self-governing associations!
This facility can be used by a wide range of people.
Facility guide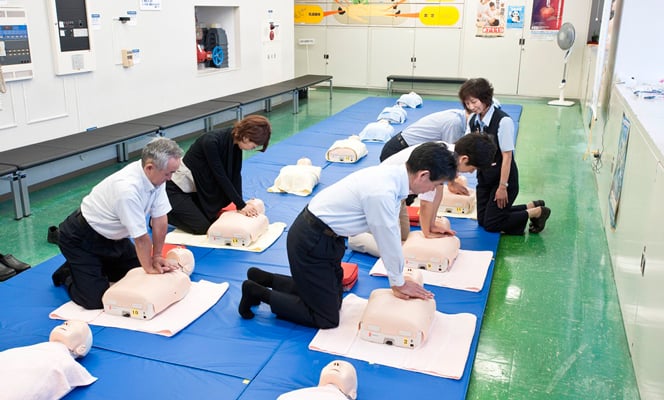 First Aid Training Section
Gain experience in cardiopulmonary resuscitation and using an AED. Learn how to perform proper first aid treatment.
Audio Visual Room
Disaster prevention films and disaster prevention cartoons are shown.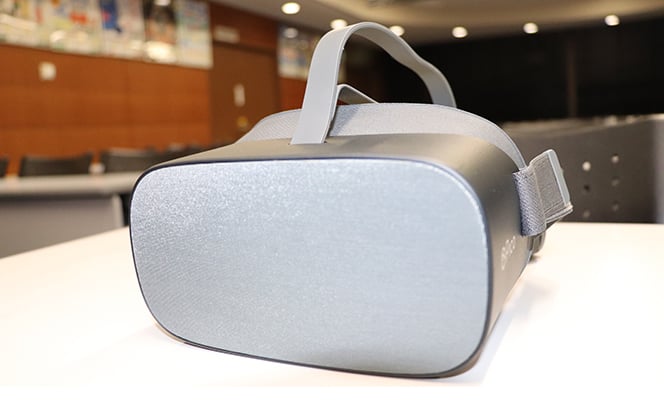 VR Disaster Section
The VR (virtual reality) system produces simulated disasters – earthquakes, fires and typhoons. Come and enrich your experience!
* The Ikebukuro Center has only the head-mounted display (with no motion sheet provided).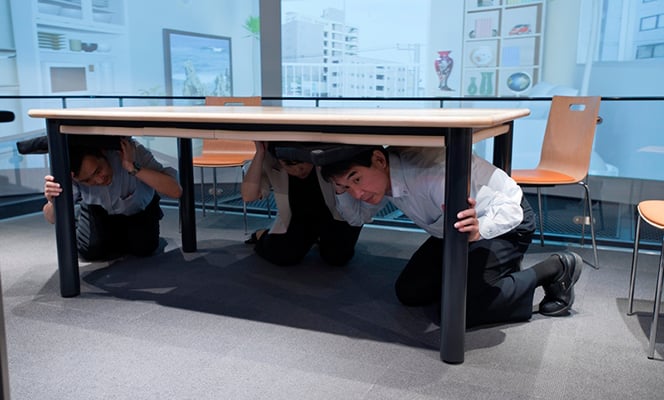 Earthquake Simulation Section
The facility was reopened on March 11, 2012. In addition to the new Great East Japan Earthquake and long-period ground motion experiences, you can experience simulations of five types of earthquakes. You can also learn about what actions you need to take in the event of an earthquake. Furthermore, the facility features exhibitions of measures to prevent the overturning, falling and movement of furniture.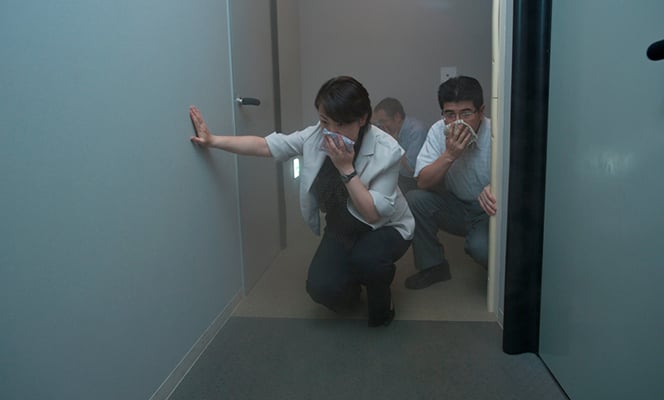 Smoke Maze Section
Learn about the properties of smoke and experience an evacuation that involves searching for exits in smoky conditions.
What should you do if you are inside a building surrounded by smoke? Participate in a simulation.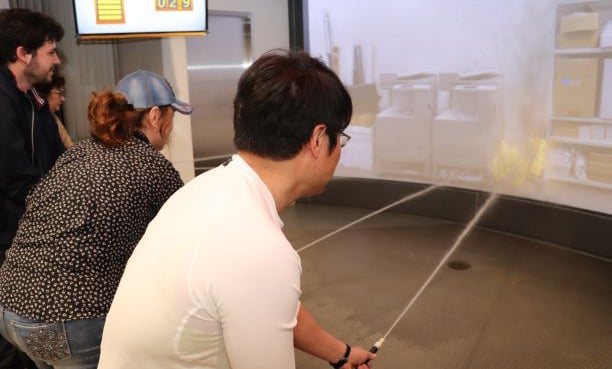 Fire Fighting Training Section
Try a firefighting simulation experience with realistic flames projected on a large screen. In addition to using a fire extinguisher, try discharging water using an indoor fire hydrant, standpipe and Class D pump—equipment that you normally wouldn't have the opportunity to use.
(The water used for training is recirculated for water conservation purposes.)
Optional experience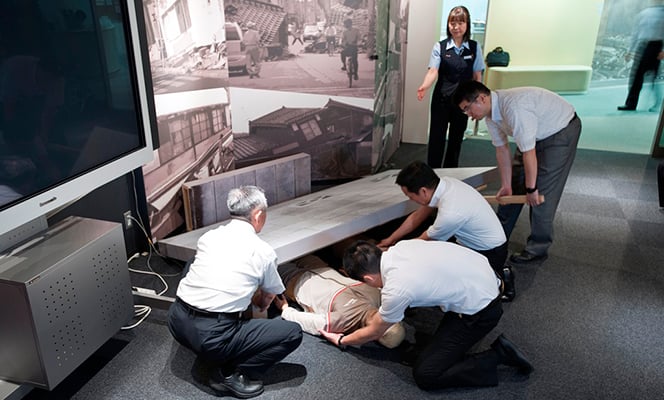 Rescue and Escape Section
During the Great Hanshin Earthquake, around 80% of people who became trapped under buildings and furniture were saved by their neighbors.
Learn through a simulated experience how to actually aid and rescue people from fallen block fences and acquire the skills needed for outdoor situations.
Minimum of six people required for this experience.
Note: Choose from a 25-minute program or a 50-minute program, depending on the number of participants.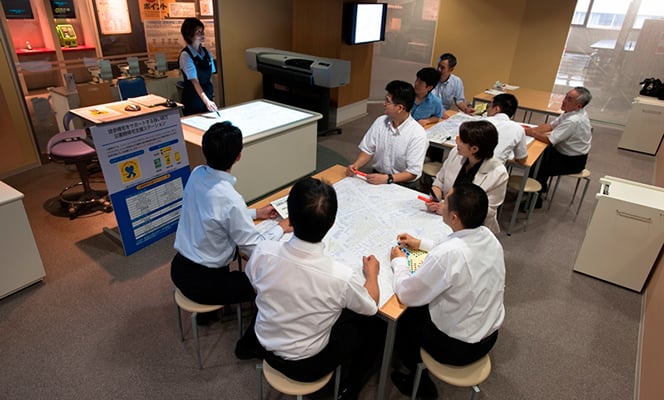 Protection Against Disasters Map Section
Write down information on roads, rivers, disaster prevention-related facilities and danger warnings on a map, create a disaster prevention map and confirm the local disaster prevention capabilities and risks. In addition to neighborhood associations and autonomous disaster prevention organizations, training using maps of schools and business establishments is also possible (the maps that can be prepared at the facility are limited to the Tokyo area).
Minimum of 10 people required for this experience.
Note: You can take the disaster prevention maps that you create home with you.
4F
Daily life accident prevention learning corner
Discover dangerous areas lurking in everyday life. Such hazards are projected onto a large screen to help with accident prevention.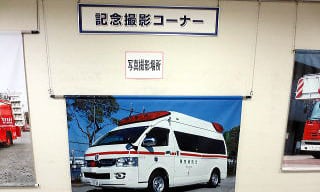 Commemorative photo corner
Take commemorative photos in front of an ambulance, pumper truck or ladder car tapestry.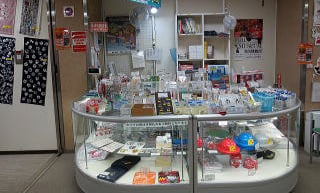 Disaster prevention goods shop
We offer items ranging from souvenirs of your visit to the Life Safety Learning Center to emergency supplies. Feel free to stop by before you leave.
5F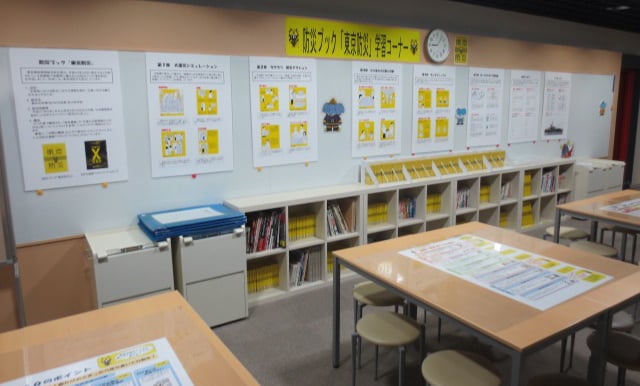 "Tokyo Disaster Prevention" book learning corner
In addition to being able to freely browse the disaster prevention book, we also offer a "disaster prevention map" (109 types throughout Tokyo) that is included with the disaster prevention book.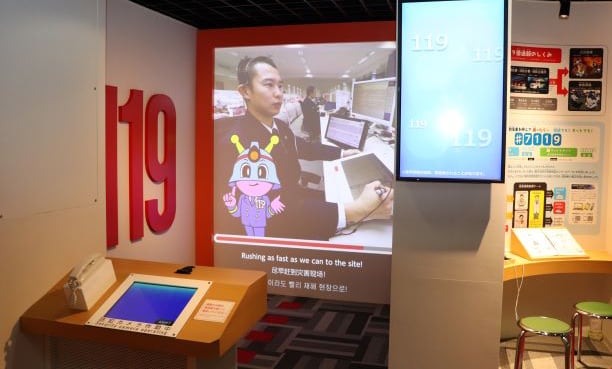 119 call corner
Learn about the series of actions to take, from calling 119 to the arrival of the fire brigade, when encountering a fire or emergency.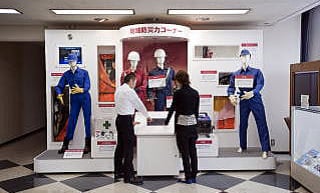 Regional disaster prevention capability corner
Learn about the equipment and materials required for the oversight and activities of fire departments, disaster support volunteers, self-defense fire brigades and disaster prevention civic organizations.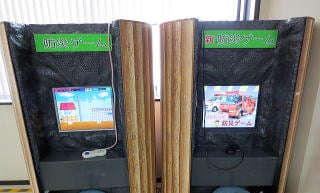 Disaster prevention game corner
Transport access
Access Map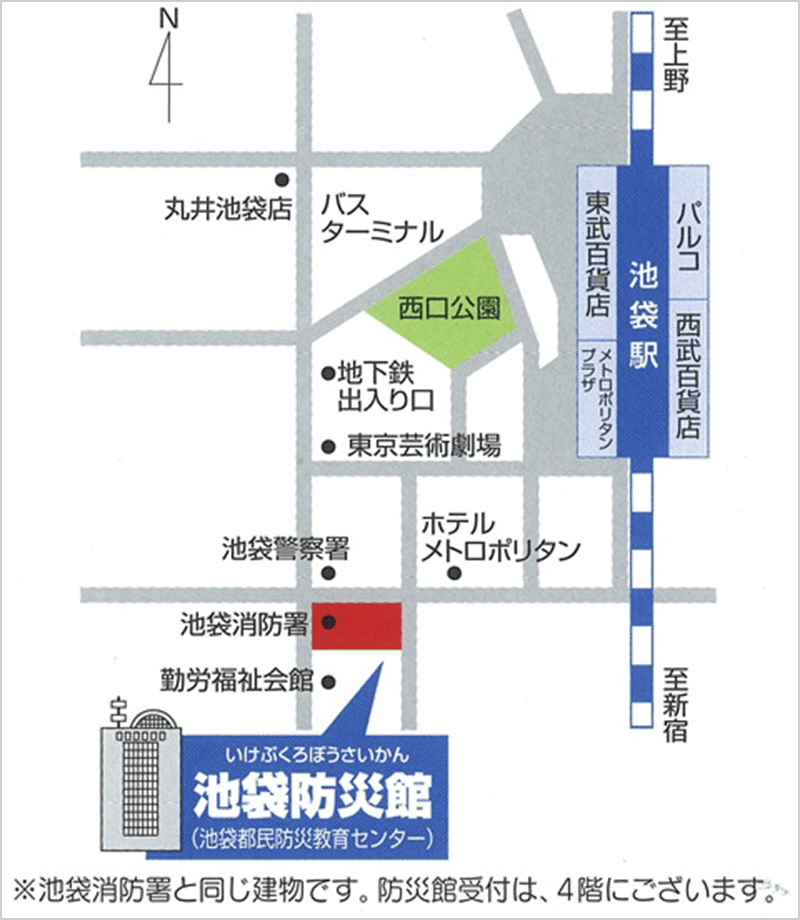 Address

2-37-8 Nishi-ikebukuro, Toshima-ku, Tokyo 171-0021
Access

5-minute walk from Ikebukuro Station (South Exit, West Exit, Metropolitan Exit)
Open hours

Open from 9:00am to 5:00pm (open until 9:00pm on Fridays)
Last admission for experiential corners is 4:15pm (8:15pm on Fridays)
Days closed

The first and third Tuesdays and the day after the third Tuesday of each month (or the following day if this falls on a national holiday)
New Year's holidays (December 29 – January 3)
Admission

free
Parking

None (including bicycles)